Carbon Fibre Super Flare Trumpet Set for all EFI Rover V8 engines.
This listing is for the trumpet set only however if you require the base also we may be able to supply this at an additional cost, please enquire.
What is this listing for?
A set of carbon fibre super-flare trumpets suitable for fuel injected (EFi) Hotwire Rover V8 engines. The trumpet base is not included but can be possibly supplied at an additional cost, please enquire.

This product offers a very simple upgrade to any Rover V8 fuel injection system, 1982 to 1999.
Carbon fibre 'Super-Flare, Trumpets offer;
Shorter trumpets to allow greater air flow over the top of each trumpet
Flared trumpet to allow for improved ram air effect
A larger leading edge to the trumpet to further increase engine torque.
Less heat soak as carbon does not retain heat to the extent that the original metal trumpets did
Although the injection types have changed through the years of fuel injection 1982 - 1999, the hardware is still the same as ever. Even with the bigger engines, I.E. 4.6 litre, the plenum retains the same throttle diameter, and the trumpets are the same as used on the very first 3.5 litre fuel injected engines

We have included another picture of a fuel injection intake system assembly With all parts finished in this effect & finished in the same coating to show the 'look' and possibilities that can be suitable for all Rover V8 applications no matter what there origin.
What you get
One fuel injection set of super flare carbon fibre trumpets only, suitable for all Rover V8 EFi variants.(base is NOT included here but could be supplied at an additional cost).
Please note: We are often asked if the trumpets are damaged as they have areas that look like a section has broken off the edge. This, however, is not the case, in fact this material has been removed so as to avoid the six bolts that hold the plenum on to the base, and so as to fit around each other in a tighter pattern.
If you have any questions, please contact us on 01603 891209
Pictures
Below you can see a picture of the actual Trumpets only. The base is not included but can be available, at an additional cost.
The second picture shows the complete intake assembly and is not offered in this listing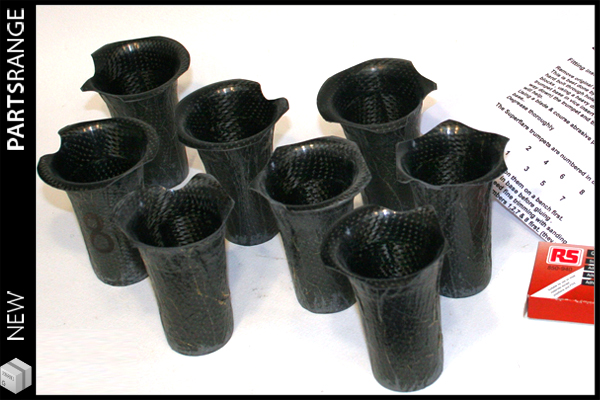 P