Front End LPG Conversion for 3.5 and 3.9 EFI Rover V8's - Discovery 1, Defender etc
Front end LPG conversion for Land Rover Discoveries - Series I 1990 to 1999
This full kit is shown here using the Essential OMVL style Tandem Vaporizer, not to be confused with inferior types especially when considering V8 type conversions. It also includes Millennium or Leonardo Lambda Loop System
What is this listing for?
A brand new OMVL Lambda Loop LPG conversion front end Kit. This listing contains the correct under bonnet (front end) components to convert your EFI Land Rover Discovery I or Range Rover Classic engine to run on LPG. As standard these vehicles were fitted with a 3.5 or 3.9 litre V8 in the UK, however this kit is still completely suitable for you if you have changed the engine capacity as long as you are still running with the same engine management system.
Please note that it is a requirement of all self fit LPG systems as supplied by RPi Engineering that once fitted, the installation should be checked over, set up and certified by RPi or by an LPG certified fitter.
Switch Unit
Once fitted the LPG switch has two operating modes which are changed between by a simple push button.
Petrol: As the name suggests this mode is to run the engine on petrol and the LPG system is inactive.
LPG: This activates the LPG solenoids and allows the engine to run on LPG, with the petrol system inactive.
This switch also has a gauge in the form of 1 Red LED and several Green ones that indicates the level of LPG in the tank.
Why this kit?
Although many would tell you that a more expensive sequential injected kit is required this is not the case. We have converted hundreds of Land Rovers using this Lambda Loop draw through type of LPG conversion and there are no issues when converted and fitted properly.
What does this kit include?
This front end system comprises of every LPG component needed under the bonnet, plus all LPG pipe work and clips back to the tank, change over switch and internal wiring. Offering everything you need however excludes the LPG tank, tank fixings and filler systems all of which can be found listed separately.
Parts referred to can be seen in the image below.
OMVL tandem vaporizer the best for Rover and bigger V8's - Part A
38 - 40mm LPG mixer ring (fits direct to Rover V8 EFi plenum chamber) - Part E
Millennium (or Leonardo dependent on stock) LPG ECU with Lambda loop control - Parts B D F
Lambda sensor with Stainless Steel Lambda boss - Part I
Twin Pitagora 4 cylinder Emulators (for V8's) - Part C
Fuel filter with shut off solenoid - Part G
LPG vapour supply hose (not shown but included)
Water hose (not shown but included)
LPG pipe, enough for all Range Rovers and Land Rovers (not shown but included)
3-core cable (not shown but included)
Full wiring kits with correct plugs for emulators, interior switch etc
Bag of essential assorted fixings - Parts H J K L M N O along with others not shown
This image shows the major parts of this kit along with the smaller electrical connections. However the pipe/hose is not shown but is included as per the list above.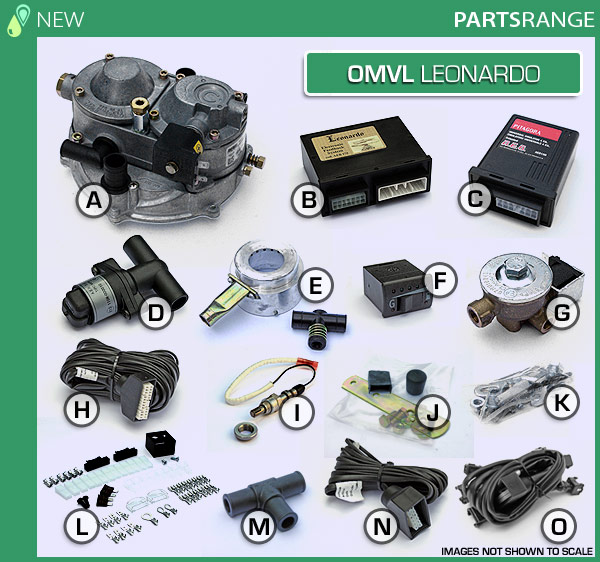 ---
Additional components for a bespoke conversion
For the most discerning RPi style LPG conversions please take a moment to see the following items below, being the self same additional upgrades we employ in all our own 'In house' V8 conversions such essential upgrades are guaranteed to give you the reliability and efficient that have gained us our excellent reputation.
The following listed components below would also be required for the best possible LPG conversion to the Discovery I and are shown and listed for your convenience only However they are not included in the above Kit but are thoroughly recommended and can be found listed elsewhere in our shop
- - - - - - Please remember these items depicted below are not included in the above Kit - - - - - -
Magnecor Plug Leads

For the best results we always recommend Magnecor plug leads which you can find in our eBay shop along with a detailed explanation of why these are recommended for LPG. Additionally you should always ensure your coil packs and spark plugs are in good condition and of the correct type.

Dual Ignition Timing Amplifier

As LPG needs a different ignition timing to petrol and this style of engine has a distributor it is necessary for best results to upgrade your original amplifier to our dual timing amplifier. This will allow you to set your ignition timing correctly for LPG and then will retard the ignition timing back for petrol.

Bespoke LPG K&N Air induction kit.

For instant power improvement and increased air flow to the engine we designed this unique K&N, LPG induction Air Filter kit. Especially for LPG, to ensure maximum engine power without engine hesitation or backfiring as would be normal from using a K&N type filter alone. It uniquely includes our bespoke Stainless Steel filter shroud offering the minimal partial restriction to air intake. This combination gives excellent performance gains on both LPG and petrol along with improved fuel efficiency and throttle response. As you can see it not only works perfectly but it looks great too.
| | |
| --- | --- |
| Brand | Unbranded |
| Condition | New |
| Weight | 15kg |