Front End LPG conversion for All Rover V8's With Weber 500 Carburettor
Out of stock
Complete 4 barrel Carburettor Front end LPG system with our unique Power Plenum and power filter.
A complete Kit:
A complete front end system suitable for all 4 Barrel carburettor types, including our unique power plenum and power shroud. In other words, everything you need to get your engine running on LPG through a four barrel carburettor such as an Edelbrock, Weber, Holly, Carter or similar
We also supply same/similar cost kits for twin carburettor types such as SU, Stromberg and Zenith and on all classics cars ranging from MG to Rolls Royce.
Will this fit my vehicle?
This kit is suitable for all carburetted engines however please enquire first to ensure your vehicle meets the required specification
Power Plenum Dimensions
(all approx)
Diameter of Inlet size is

64mm

Diameter of underneath centre

130mm

Overall Height

88.9mm / 3.5"

Overall Diameter 254mm / 10"
What is included in this kit?
Our Unique low profile Power Plenum in alloy finish
K&N Air Filter with stainless steel power shroud unique to RPi.
LPG Change over switch with LPG level gauge and wiring harness
OMVL Tandem Vaporiser (our preferred vaporiser for the best performance and economy.)
LPG Solenoid and Filter
Petrol Solenoid
6mm LPG Copper (Rubber Coated) Pipe
Rubber water hose, water T-pieces and LPG Vapour hose
All Nuts, Bolts, Jubilee Clips and other parts required to fit all the above parts
And of course RPi's. acclaimed after sales service, helping you with fitting, set up and on going years of Rover V8 motoring.

Due to the universal fitment and multiple applications of this kit, there is no instructions included, however we are happy to offer help and advice over the phone and by email if required
Please note that we normally also upgrade the vehicles ignition system to help burn the higher octane LPG fuel, such as Magnecor plug leads and our dual timing power amp etc, please email for details.
Pictures
Here you can see the Carburettor system with all components that are included. Please note that as standard the power plenum is supplied in a bare aluminium finish rather than the black shown below​​​​​​​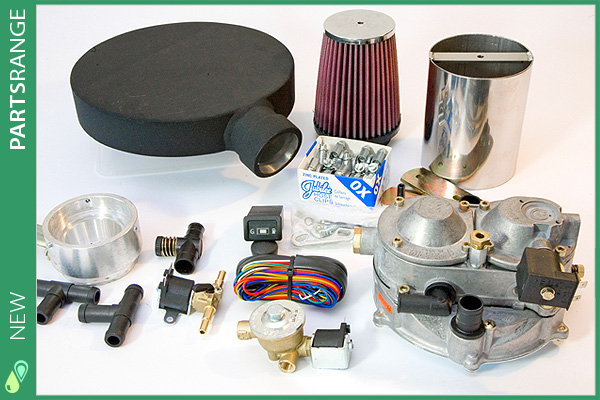 Picture below offers a view of the 2WD & 4WD variant as previously fitted to a Land Rover and Rover MGB.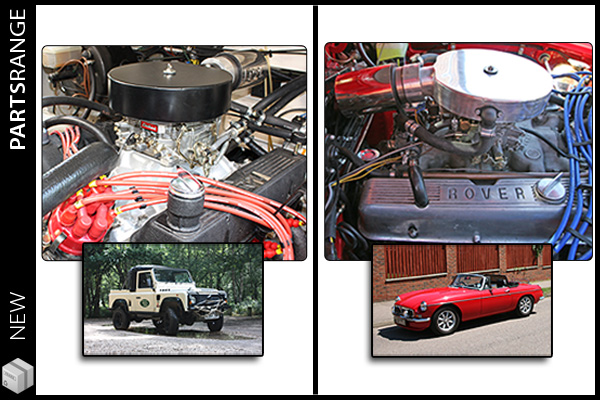 RPi Power Plenum
For Weber/Edelbrock 2 barrel Carburetor types. This item not only acts as a Snorkel or remote Filter unit, but is also the best LPG intake, as well as offering enhanced torque throughout the entire engines rev range.
K&N Air Filter with power shroud
For instant power improvement and increased air flow to the engine we designed this unique K&N, LPG induction Air Filter kit, to ensure maximum engine power without engine hesitation or backfiring as would be normal from using a K&N type filter alone. It includes our bespoke Stainless Steel filter shroud offering the minimal partial restriction to air intake. This combination gives excellent performance gains on both LPG and petrol along with improved fuel efficiency and throttle response. As you can see it not only works perfectly but it looks great too.
LPG Change over switch with LPG level gauge
The LPG switch for a carburettor'd engine has three positions/modes, Petrol, fuel pump off and LPG. The modes petrol and LPG are self explanatory, the reason for the fuel pump off mode is that when changing from petrol to LPG, you have to run your float bowls out of petrol before switch to LPG. When on LPG though you leave the switch in the LPG position so that the engine starts and runs on LPG. There is a level gauge using LED's on the switch which is controlled by the float in the LPG tank.
OMVL tandem vaporizer.
A vaporizer is the component located under the bonnet and linked directly to the LPG tank with a copper pipe via a fuel solenoid/filter. The copper pipe from the tank supplies liquid LPG to the vaporizer, and then, as the name suggests, the vaporizer changes this liquid to a vapour ready for the engine to burn. The vaporizer is also a demand and supply valve, sucked at from the mixer ring located in the induction pipe. The harder the engine works, the higher the vacuum from the mixer ring, therefore, the diaphragm inside the vaporizer is moved further and more vapour is let through to the engine
Petrol Solenoid
When running on LPG it is not only necessary to turn the petrol pump off (assuming you have an electronic fuel pump) but also to install a petrol solenoid in the fuel pipe just before the carburettor(s). The reason for this is that if you were to simply just turn the petrol pump off there is still fuel in the pipe that could surge forwards into the carb. when you stop/accelerate. With this solenoid installed this stops the fuel from being able to do this that is left in the pipe.
LPG Solenoid and Filter
Once you have the LPG system fitted, there should be three electrical shut-off solenoids in total. One will be located on the LPG tank, there is another on the vaporizer supplied with this kit, and the third is a separate solenoid which is mounted in the supply line under the bonnet just before the vaporizer, this one contains a filter as well. All of these solenoids only become live when the vehicle is switched to, and active on, LPG, therefore, when the vehicle is running on petrol, or the ignition is switched off, the LPG system is effectively dead.
| | |
| --- | --- |
| Brand | RPi |
| Condition | New |
| Weight | 15kg |