Complete GEMS ECU and Ignition system upgrade
What is this listing for?
An upgrade kit suitable for all Sagem (Gems) Fuel Injected engines, designed to give you fueling efficiency & ignition resulting in smoother running, very responsive, efficient and powerful engine.

This upgrade is also correct for Land Rover D90 NAS & 50th Edition, plus 4.0 Morgan and a few other similar vehicles from Marcos
This 'Sagem Upgrade Kit', listed here includes the following Modules.
New Tornado Sagem ECU Chip - 2 Quick fit EPROM Mark Adams chips. Offering a simple DIY installation.
2 on-board required decoder chips.
Complete fitting instructions and assurance of thousands of bespoke chips sold over many years.

Magnecor leads
Increased Fuel economy, 10 -20% nominal is to be expected.
Increased engine torque, especially through transitional low end and mid range load/Rpm driving.
A bespoke Set of 8.0mm Magnecor plug leads including the coil lead.
It truly does not get any better then these, at a reasonable worth while price too.
---
Sagem Tornado Chip



Are these chips suitable for my car?
These chips are designed for the Land Rover Defender 90, Range Rover P38 and the Morgan Plus 8, which use the Lucas Sagem Fuel Injection System.
Just what is your Land Rover thinking?
Gems posses a pre-programmed fuel trim that is instigated by recognizing driving load, RPM and Throttle position (essentially at least). Now consider how much load your Land Rover presents through the Air Mass Meter (AMM - The AMM essentially is the load detector). This severely effects the fuel trim just were you need it on all lighter cars, thus it so easy to see why the Land Rover's run so weak through essential mid range load areas (1600 to 4200 rpm ) the engine then would be assumed to detonate very badly.
Avoid going into default.
Essentially Gems/Sagem engine management is equipped with an OBD-2 (on board diagnostics) style engine management computer. Unlike previous models, the Sagem system has the ability to constantly monitor its performance, efficiency and economy, and make logical adjustments to its ignition and fuelling parameters. It also records previous faults it may have encountered. The main problem it has is that it is constantly trying to maintain the compromised settings (for a Range Rover) installed by the original manufacturer (Land Rover).
Get the right settings.
In the following few paragraphs you will learn how simple it is to not only remove the robust security (Rover's pre-installation to lock out any future upgrades), but also how to improve on your standard engine's efficiency. It's so easy that you can gain all you need without any compromises. That's Torque, Bhp and Economy!!
What are the gains from a chip install only?
From just installing the ECU chips you can easily expect at least 20-25% increase in torque throughout the entire rev range, bhp and efficiency too. The chip upgrade is also compatible with our piper camshaft upgrades, K&N air filters, Carbon Fibre Super Flair Trumpets ad our full or partial Stainless Steel exhaust system without modification.
Essential for all 4.0 & 4.6 engine upgrades.
Even the slightest change such as an exhaust system or free flow filter will not register any favours with the ECU and it will continually fight against any extra fueling requirements to make the best of the upgrade. Indeed, it will always try to restore factory default settings, thus undermining anything you have done. With the removal of "robust security" once these chips have been installed and the revised fuel and ignition map they will simply adapt to any modifications, camshaft, intake or exhaust that you may do. The chips also have both 4.0 litre and 4.6 litre fuel maps stored on them so if you later upgrade to a 4.6 litre engine there is no need to send them back for a software re-write, simply plug in Test Book, Rovacom Lite or FaultMate and change from 4.0 to 4.6.
Included in the auction is;

2 Quick fit EPROM Mark Adams chips. Offering a simple DIY installation.
2 on-board required decoder chips. Also simple to fit.
Colour fitting instructions.and unlimited RPI/Partsrange assistance / support
Assurance of thousands of these bespoke chips sold over many years
Please Note : It will be necessary on Sagem vehicles to perform a security re-learn once these ECU chips have been fitted to enable the engine to start. This can be done with Test Book, Rovacom Lite, FaultMate or any other 3rd party diagnostics equipment which has the capability of the re-learn security option. If in doubt please contact us.
Will I need anything else with these chips?
Sorry, although we do not have any code to go with these chips it might be necessary to refit the knock sensors if Morgan never fitted these to your engine. We have found that most UK Morgan's did not have the knock sensors fitted so these will need to be purchased along with the mounting studs, and for most export vehicles too, however a few left Malvern with them still fitted so please check. If you are not sure what you are looking for then we have placed a picture below showing where the knock sensor is mounted on each side of the engine.
What is the install time?
It's no more than 15 to 30 minutes under the bonnet and the simple 'Plug and Play' installation of just two management Chips complete with easy to follow instruction.
Will I need any special tools?
Not at all, the only tools required are a screw driver for removing the ECU from the car. A T20 Torque screw driver for removing the ECU lid and then a small flat headed screw driver for removing the original ECU chips.
Could Chipping lower engine temperature?
The fuel maps direct from Land Rover are very weak on the mid range fuel/air ratio. This will be beginning to cause problems with engine internal temperature, and can be the cause of valve guide, or worse still, shifted liner/cracked block problems, commonly found in Range Rovers and heavier 4x4 cars. This however, is normally in countries running very low octane fuels, but the advantages are for all.
I have heard that after chipping I might have problems?
Although we have chipped many hundreds of Morgans we have encountered an occasional issue which has always gone back to the vehicle build which have all been resolved. These issues were simply....

When Morgan build the wiring loom for the dash board they placed the rev counter wire in the same part of the loom to the Alarm signal/Engine check light wire. When the ignition is first turned on the alarm code is sent down the alarm signal wire, however at the same time the rev counter resets its self and this causes a voltage spike to travel down the rev counter wire. As the alarm signal is a very weak but precise the rev counter pulse interferes with the alarm code and causes the ECU to receive an incorrect code. This causes the engine check light to come on and fr the engine to not start that time. Although the engine check light will then remain on until reset the vehicle will start next time the ECU receives a correct code.

Once the chips are fitted a security learn process is required to enable to new ECU chips to learn your 10AS alarm module code (This code is unique to your vehicle so can not be pre programmed) We have found that in some instances the 10AS alarm modules is faulty and will not perform this procedure and no communication to the 10AS can be established. In the couple of instances of this we have replaced the 10AS module with a new unit, then programmed the 10AS with the relevant information. Once this has been done then a security learn can be performed correctly.

The OBDII communication port is wired incorrectly causing communication problems. We have OBDII ports with wiring kits available to re-wire this and rectify the fault.

The ignition switch contacts have been faulty causing the ECU not to shut down correctly, this causes the battery to go flat over a period of time unnecessarily. You could try another ignition barrel here although we have found that a relay can be used to ensure that the ECU receives a direct 12 to 0 volt drop.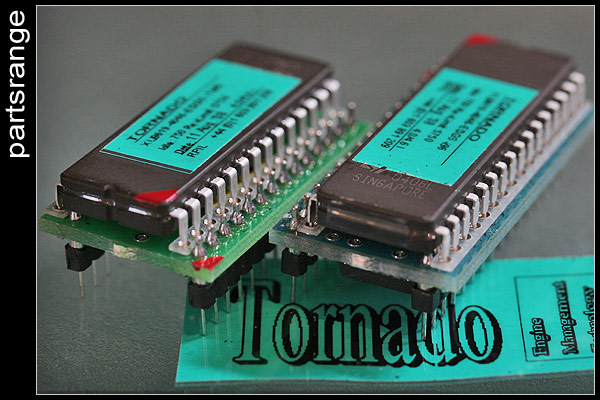 ---
The Ignition Kit Section
Magnecor plug wires 8.0mm Blue Suitable for all Rover V8 Engines 1967-2009.
(Superior 8.0mm Wires, for 'all' Rover V8 Engines and engine variants, just specify what you have and we will supply the ones you need)
Upon purchasing a set of our Magnecor wires, please specify upon payment, the type/model of car you have or indeed the engine's origin, especially if not now in its original vehicle (Kit cars Custom/Retro or other V8 Converted Cars).
Minimum expected benefits.
Increased Fuel economy, 10 -20% nominal is to be expected.
Increased engine torque, especially through transitional low end and mid range load/Rpm driving.
Engine torque smoother & more enthused-enabled through improved combustion
Far cleaner & lower emissions creating for far longer engine life.
LPG (GPL) Recommended due fuel octane increase to 110 with LPG
EnhancedService life of Ten years minimum can be assumed or 100 thousand Miles.This would truly be a lifetime for most vehicles
Atthis cost, Magnecor wires will not only be the most costeffective upgrade you ever made but will also considerably enhance thedriving pleasure of your cherished vehicle.
Forfurther assurance we can reliably state we have supplied many thousandsof sets of Magnecor wires the past 15 years and 99% are still in usewithout fault or perhaps the engine itself has given up first.
This Listing is for:
A full set off 8.0mm Blue Magnecor Plug Leads, for 'all' Rover V8 Engines and engine variants fitted in very many different vehicles, but will always be delivered correct for your Rover V8 whatever your application. This listing also covers the Later 4.0 and 4.6 engine variants with rear mounted coils that have 8 coil leads in the set rather than one coil lead and 8 plug leads.
Fear not though, if your car has no adverse complications then we have Magnecor wires on the shelf ready to ship out to you the same day
Magnecor wires are offered with a lifetime warranty that can berealistically interpreted as at least 5 to 10 years of greatperformance, we know this as we have sold many thousands of sets in thepast 8 years and have had issues with less then 10 sets in total, thismostly due to bad installation or pulling them off by the wire ratherthan the spark plug or coil tower boot.
Plug leads exposed.
UK Factory hand built (by Humans) and checked for continued maximum manufacture assembly reliability.
Spiral wound for full capacitance build up to create shortest, highest possible ignition voltage detonation.
StainlessSteel hand built construction at the 'Spark Plug' connection toeliminate normal corrosion otherwise causing all damaging HT. contactdegradation.
Cap/plug wire contacts hand fitted rather than by blind machines.
Manyboot style and angles both at plug lead and distributor fitment endsvariable in the set to provide perfect fitment and avoidance ofobstacles such as hot exhaust manifolds.
Minimum8mm Silicon cover, ( 8.5 Red Also available) Silicon although in itselfis of no value for spark enhancement, but very good as the ultimate RFinsulator wire strengthener, damp inhibitor and durability, all beingonly real purpose of the use of silicone in plug wires here. (if colouris important though we offer 8mm Blue and 8.5MM red)
Fitand forget, the lifetime warranty offered with these Magnecor wires canbe truly believed and we will guarantee to replace any faulty ones ofour own back for a ten year period.
We can also supply for USA V8's and many other petrol engine vehicles too, both 4wd & 2wd. Please enquire.
If you have a Discovery 2, or a 1999 to 2002 Range Rover:
Then its worth further noting that not only are the standard lucas plug wires of cheap design and an expensive price, they also take between 1.5 and 2.5 hours to comfortably install, (Uniquely the top end of the engine needs stripping to gain access to the coils at the rear of the injection system), Thus as a serviceable item you could be paying well over £150.00 in labour alone, to change them each time, (The dealer - main agent undoubtedly will be very pleased to see you again :-)
Magnecor wires however are offered with a lifetime warranty that can be realistically interpreted as at least 5 to 10 years of great performance, we know this as we have sold over 2000 sets in the past 8 years and have had issues with less then 10 sets in total, this mostly due to bad installation or pulling them off by the wire rather than the spark plug or coil tower boot.
Magnecor design Origins.
In the beginning. Designed primarily for pure racing engines using racing ignitions, turbo charging and supercharging.
The Entire jacket was made from aerospace extreme heat-resistant silicone rubber.
Exclusive magnecor 2.5 mm Metallic Inductance Suppressed Conductor will suppress EMI indefinitely, allowing this cable to be used on all road vehicles with any ignition styles and especially essential for LPG gas converted vehicles..
Excellent RFI & EMI suppression, flexible high-strength, high-silicon construction
Please do not confuse Magnecor with cheaper high-street or original equipment leads. Spiral wound leads, hand built by Magnecor, actually boost spark output and plug gaps can safely be increased by 10-20% due substantial higher spark delivery voltage.
Magnecor Road & Race Wires (you don't need to read this)
Are used on most serious race engines such as current engines used in the USA in NASCAR, Winston Cup, Grand National and Super Truck series, SCCA (including successful factory vehicles and other series winners), IMSA, NHRA etc. Magnecor Race Wires are also used on many race engines competing worldwide; Australians would be interested to know most successful Touring Cars, including most cars running at Bathurst, use Magnecor Race Wires. They have been successfully run on many 5,000+HP Top Fuel engines. However, unlike all other performance wires, Magnecor Race Wires can be used to improve ANY street engine ignition performance ­ because they provide EMI suppression!
OK. so that's the info Now for the down-to-earth, in-house, real-time stuff.
Having supplied and utilized over 2000 sets ourselves over the past years, we know your V8 will truly suffer if you don't upgrade, as will economy power and efficiency. Don't let such a minor product with major implications destroy the potential you have striven for.
The small print.
Please note that the auction is for one set of Magnecor 8.0mm leads (Blue), for whatever your V8 Rover Type. Please then don't Forget upon winning the auction you must tell us what you std car, or variant is. For most other vehicle applications (not listed) we can easily have them custom made direct from our supplier, however, this usually takes an extra few days on the delivery time and can vary the actual price.
We can supply Magnecor high specification plug wires for almost all petrol engines, please enquire
Please e-mail us if you have any further questions.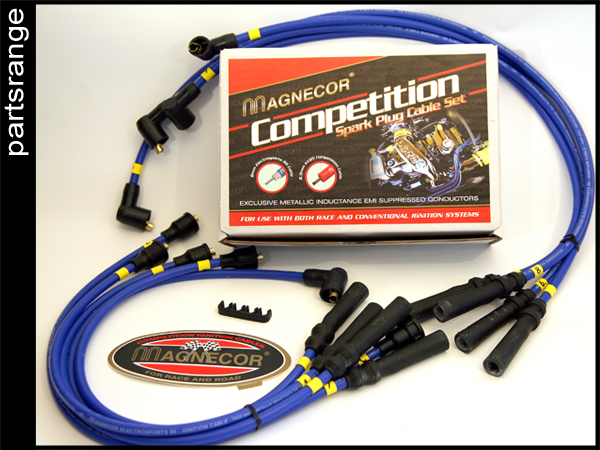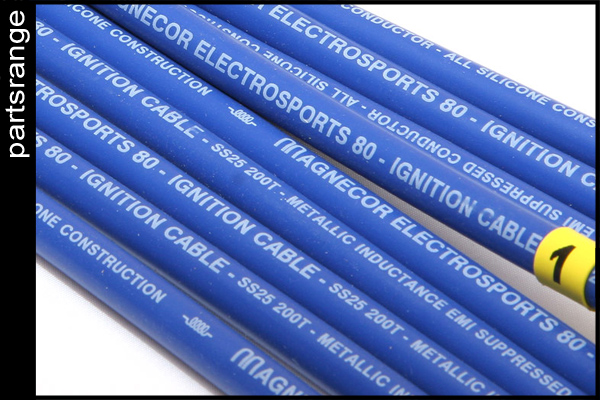 Technical specifications
| | |
| --- | --- |
| Brand | Magnecor |
| Condition | New |
| Weight | 2.5kg |