Ignition Upgrade Kit - Magnecor Leads, A&R Amplifier & Service parts
Ultimate Rover V8 Ignition System Replacement Upgrade Kit.
Never underestimate the ability of your 15 to 40 year old ignition system to devastate your economy, your engine performance, and emissions too.
What is this listing for?
A brand new Ignition upgrade kit containing all you need to increase & enhance performance, efficiency and reliability of the somewhat compromised original Rover Ignition system. Normally required for your V8 and essential for all LPG and upgraded engines including EFi and Carburettor types.

Suitable if your distributors internals check out...... Please contact us for our check list

For information on Magnecor wires and our A&R amp that are included here please see our other listings
The equipment supplied:
RPi Engineering approved rotor arm and Lucas distributor cap
A&R Ignition Power Amplifier suitable for use with petrol only or LPG
Plus Magnecor 8.00mm Plug Leads
Set of V8 NGK BP6ES Spark Plugs
Bosch Ignition coil
---
Single or Dual timing A & R Power Amp.
What you get:
1 single or dual timing power amplifier, suitable for the Rover V8 engine, black style finish.
Will this fit my engine?
This amplifier will fit all the standard Rover V8 distributors, both single point and electronic, (excluding the early Lucas Opus system) and will also work in conjunction with the Mallory Unalite and Dual Point Distributor. If you have the early Lucas Opus distributor we seriously suggest that you upgrade from this system as it will be losing you 2 - 3 miles per gallon on fuel economy and much more in performance terms as well.
What is the Advance by Retard system?
LPG is much more economical and just as powerful as petrol, but the issue is with the ignition timing and spark intensity due to the slower flame front of LPG.

When the selected fuel is gas, it is usually beneficial to employ rather more ignition advance than would be used with petrol to achieve best efficiency.

The unit addresses this requirement by allowing the timing to be set up optimally for gas and then automatically retarding the ignition (by an adjustable amount of degrees) when petrol is selected. The automatic retard is activated only when engine revs are greater than 1500, since the unit's accurate operation relies heavily on engine flywheel effect. A diagnostic indicator LED lights up when the automatic retard is active. As revs fall below 1500, the retard does not cut out until below approximately 1200 rpm. This overlap ensures that the unit cannot "hunt" near the switching threshold.

Thus it is possible to have optimum setup for gas while avoiding problems associated with over-advanced timing when switching back to petrol.

The unit contains its own integrated power output stage employing a low-saturation IGBT power transistor for low loss, minimal self-heating, and maximum reliability. The internal circuits are protected against accidental battery reversal. The input circuits allow configuration to suit most types of points and sensor types of distributors. Finally, internal links allow the automatic retard sensitivity to be set to suit 4, 6, or 8-cylinder engines (wiring diagram supplied for the Rover V8 engine).
Some key points:
Bigger Sparks, Maximum Power & Efficiency Potential, especially when upgrading other areas.

Our exclusive A&R Power Amp increases spark output from 35KV +/- (new stock) to nearly 50KV.

Installation in less than 30 minutes without any experience.

The A&R unit is completely hand built exclusively for us & uses Insulated Gate Bipolar Transistor (IGBT) output switch technology.

If you are not running LPG we can provide a power amp which is designed for just petrol use.
The right hand graph shows here a 60% spark duration increase. This is a massive gain by any standards and represents almost double the spark duration of all Std Rover V8 systems.

Also shown on the left hand graph is the stored energy in the coil to created the spark which here you can see doubles with the Amplifier and Magnecor leads.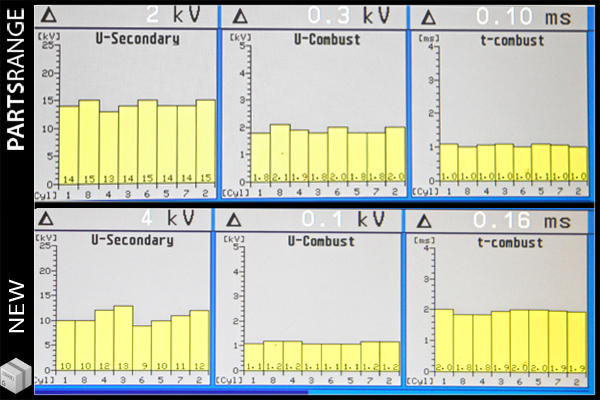 ---
Magnecor Plug Wires 8.0mm Blue
Superior 8.0mm Wires
This is for a full set off 8.0mm Blue Magnecor Plug Leads, for 'all' Rover V8 Engines and engine variants fitted in very many different vehicles but will always be delivered correct for your Rover V8 whatever your application.
Magnecor design Origins.
In the beginning. Designed primarily for pure racing engines using racing ignitions, turbo charging and supercharging. The Entire jacket was made from aerospace extreme heat-resistant silicone rubber. Exclusive magnecor 2.5 mm Metallic Inductance Suppressed Conductor will suppress EMI indefinitely, allowing this cable to be used on all road vehicles with any ignition styles and especially essential for LPG gas converted vehicles.

Please do not confuse Magnecor with cheaper high-street or original equipment leads. Spiral wound leads hand built by Magnecor actually boost spark output and plug gaps can safely be increased by 10-20% due substantial higher spark delivery voltage.
---
NGK BP6ES Spark Plugs
The Plugs we use are the plugs we recommend, NGK is our Choice
NGK has the technology to produce plugs for every type of automotive engine, as well as for motorcycles, marine, horticultural and many other applications. In fact NGK produces and stocks over 1,000 different types of plug. Each one matches even the most demanding manufacturers' specifications. Which is no doubt why NGK are the world's No.1 spark plug.
---
Bosch Ignition Coil
Info:
This is a 12V Bosch coil, part number PRC6574G.
If you have any questions about this extensive listing please telephone for advice

As always, advise is freely given!
Specific details that we need from you upon purchasing this system.
We are offering here, either the single or dual timing amplifier, please let us know, which one you require upon purchasing, else we will default to sending the single timing.

Upon Purchasing a set of Magnecor Leads please let us know what vehicle you wish to fit to, so we can be sure of sending the correct leads. If you have a coil lead length of over 22 inches please contact us first.

It is essential that you tell us the complete spec. of your existing engine to ensure the correct components are supplied.
| | |
| --- | --- |
| Brand | Bosch |
| Condition | New |
| Weight | 5kg |