Morgan Plus 8 full Stainless Steel Exhaust System with De-CAT Sports Pipe - non silenced
Comprehensive, Morgan 'Plus 8', De-CAT sports tail pipe.
The best Morgan exhausts Proven beyond doubt.
This listing is for one complete RPi Engineering Morgan Plus 8 exhaust system including our non CAT pipes. Suitable for the Morgan Plus 8 models using the Rover V8 engine. It includes everything that you need, gaskets, hangers, bolts and other fixings as detailed below.
What is included in this listing (All parts in stainless steel)
One pair of bespoke Morgan V8 Manifolds (Direct fit for all capacities and variants of Rover V8 engines.

One pair of 90 degree down pipes

(manifold to system links pipes.)
One pair of Morgan +8 CAT bypass pipes Lower cost, better performance but may not be legal for street use.
One pair of Morgan +8, 18" sports silencer (We can also offer a track day silencers too at no extra price or even both options)
One Pair of Morgan +8 Rear exit non silenced Pipes (essential only in Draconian states and for those that don't love to hear that they really have a V8)
One complete fitting kit including gaskets, olives, stainless steel bolts, washers, aero tight nuts and exhaust rubbers. (Its all you will need)

Unique assistance

with RPi's acclaimed after sales service for any fitting questions, or indeed any further upgrades/enhancements.

Extended Warranty

We are happy to extend our basic 3 month No quibble guarantee to a ten year period from purchase.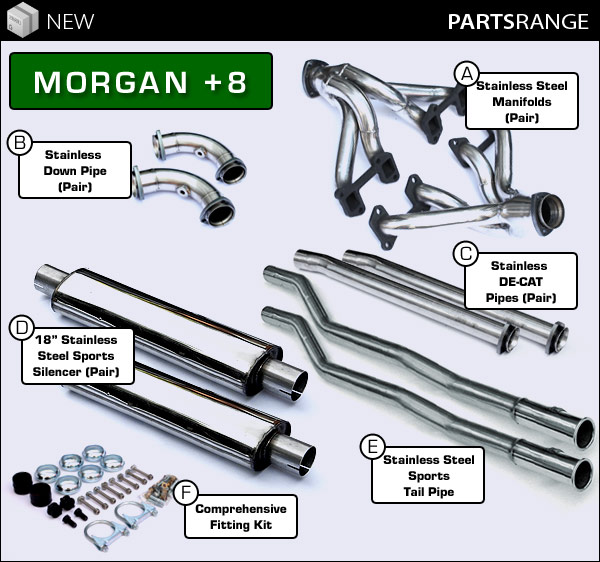 Will this exhaust fit your car?
This exhaust is suitable for all of the Morgan Plus 8 sports cars using the Rover V8 engine (although you may require a CAT depending on the year of your car).
Parts included in this listing explained
Pair of Plus 8 Manifolds:

Designed originally for our 5.0 litre project car these manifolds are suitable for all Rover V8 engines 3.5 to 5.5 litre. With 1" 5/8 primary pipes the collector then expands to the 2" 1/4 bore that is used for the complete system.
Pair of Down Pipes: This down pipe connects directly to the standard manifold and allows either the100 cell sports CAT or our De-CAT pipe to be connected. It is made from304 grade stainless steel and has a correctly flowed Y-piece as apposed to the standard down pipe.
Pair of non CAT link pipes: These pipes link the down pipes directly to either of our two silencer options and are suitable for both track days and pre CAT vehicles.
Pair of 18" Sports Silencers:2 1/4" straight through bore, with its oval construction no ground clearance is lost however sound absorption is still achieved.
Long exit over axle rear pipe: Our standard Morgan Plus 8 option, this tail pipe is the thoroughbred version with no silencer and exits at the rear of the car.
Comprehensive fitting Kit: Includes all the parts needed to install this system, exhaust clamps, hangers, olives, bushes, stainless steel bolts and Aero tight nuts.

Please see our individual exhaust component options below: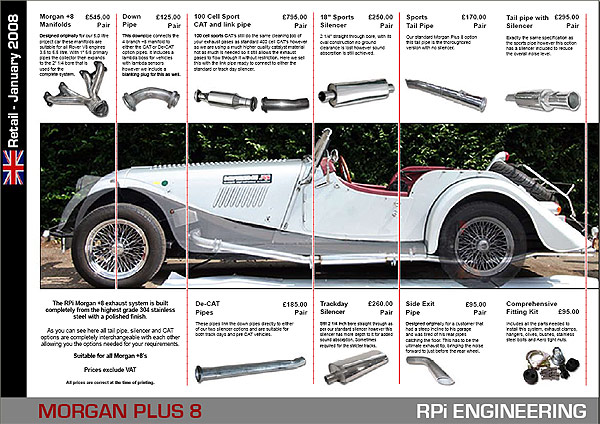 You can see our full Morgan +8 exhaust options in this easy to understand brochure that we have developed. This complete system that this listing is for is detailed below however all of the other options are details here
| | |
| --- | --- |
| Brand | Unbranded |
| Condition | New |
| Weight | 32kg |